25 Quotes that will Inspire You to Travel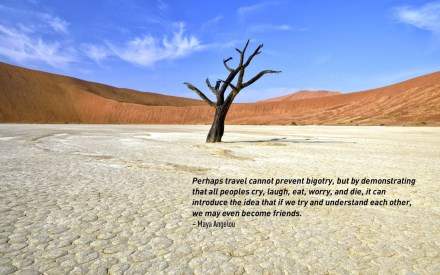 Here are some quotes from inspiring and famous people that will coax you out of your shell to see more of the world.
1. Susan Sontag: "I haven't been everywhere but it's on my list."
2. Moorish proverb: "He who does not travel does not know the value of men."
3. Kurt Vonnegut: "Bizarre travel plans are dancing lessons from God."
4. Mark Twain: "Twenty years from now you will be more disappointed by the things that you didn't do than by the ones you did do. So throw off the bowlines. Sail away from the safe harbor. Catch the trade winds in your sails. Explore. Dream. Discover."
5. Freya Stark: "To awaken quite alone in a strange town is one of the pleasantest sensations in the world."
6. Thomas Fuller: "Travel makes a wise man better, and a fool worse."
7. Unknown: "Travel is the only thing you buy that makes you richer."
8. John A. Shedd: "A ship in harbor is safe, but that is not what ships are built for."
9. J.R.R. Tolkien: "Not all those who wander are lost."
10. The Dalai Lama: "Once a year go somewhere you have never been before."
11. Michael Palin: "Once the travel bug bites there is no known antidote, and I know that I shall be happily infected until the end of my life."
12. Jack Kerouac: "Our battered suitcases were piled on the sidewalk again; we had longer ways to go. But no matter, the road is life."
13. Aldous Huxley: "To travel is to discover that everyone is wrong about other countries."
14. James Michener: "If you reject the food, ignore the customs, fear the religion and avoid the people, you might better stay home."
15. Audrey Hepburn: "Paris is always a good idea."
16. Mohammed: "Don't tell me how educated you are, tell me how much you travelled."
17. Unknown: "This heart of mine was made to travel the world."
18. Freya Stark: "Travel does what good novelists also do to the life of everyday, placing it like a picture in a frame or a gem in its setting, so that the intrinsic qualities are made more clear. Travel does this with the very stuff that everyday life is made of, giving to it the sharp contour and meaning of art."
19. Dutch Proverb: "He who is outside his door has the hardest part of his hourney behind him."
20. Benjamin Disraeli: "Travel teaches toleration."
21. Tim Cahill: "A journey is best measured in friends, rather than miles."
22. Helen Keller: "Life is either a daring adventure or nothing at all."
23. Shirley MacLaine: "The more I travelled the more I realized that fear makes strangers of people who should be friends."
24. Marcel Proust: "The real voyage of discovery consists not in seeking new landscapes but in having new eyes."
25. Bill Bryson: "To my mind, the greatest reward and luxury of travel is to be able to experience everyday things as if for the first time, to be in a position in which almost nothing is so familiar it is taken for granted."