Explore Two UNESCO World Heritage Nature Sites in India
If you would like your family, especially your children, to have a wonderful experience of being in the midst of nature, you can take them to these wonderful national parks in Northeast India. These two national parks are Kaziranga National Park and Manas Wildlife Sanctuary which have been declared as World Heritage Sites by UNESCO due to their bio-diversity and ecology.
They are situated in the state of Assam in India. For nature lovers, the Indian state of Assam is one of the best places to visit because of the presence of national parks and wildlife sanctuaries. These forests are a major tourist attraction and help this state earn a lot of revenue.
Assam is located in the heart of the North eastern part of India and has a very diverse climate and an equally diverse variety of animals living in these forests. The flora and fauna of these ecosystems have interested scientists and researchers all over the world. The national parks of Assam are well known for their adventurous tours in open jeeps and elephant backs. Two of the most important wildlife sanctuaries are Kaziranga National Park and Manas Wildlife Sanctuary.
Kaziranga National Park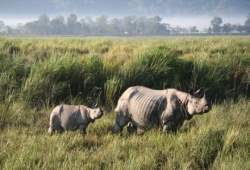 This spreads over the Nagaon and Golaghat districts of Assam and is frequented by tourists from all over the world looking for adventure. This place has about two thirds of the entire population of the Great One Horned Rhinoceroses along with the densest population of tigers in the world. There are several other kinds of animal found here like wild elephants, water buffaloes, swamp deer and many other smaller creatures. This national park has been declared both a tiger reserve and a world heritage site to protect it from depletion and illegal poaching. Kaziranga is a wondrous place which has been cut across by four rivers, one of which is the mighty Brahmaputra.
The flora of the place most consists of extremely dense, moist, tropical broadleaf forests, marshland and elephant grass, which is a species of grass which grows very tall. This park was established in 1905 and has been a popular theme for many books, movies, documentaries and songs. The reason Kaziranga stands apart is because of its exceptional success in conservation of the desired ecological balance over a long period of time. If you want to observe the elephant and the tiger in their natural habitat, you should certainly visit this park.
Manas Wildlife Sanctuary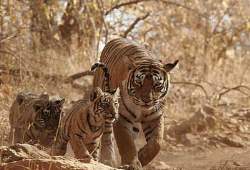 Manas Wildlife Sanctuary, also known as Manas National Park has been declared a Natural World Heritage site by UNESCO. Along with that it has also been declared an Elephant Reserve, a Project Tiger Reserve and also, a Biosphere Reserve. This national park also covers a large part of Assam and is located in the foothills of the majestic Himalayas. It is a continuation of Bhutan's Royal Manas sanctuary which is also a national park. There are many endangered and rare species found in these forests like the hispid hare, Roofed Turtle, Pygmy Hog and the Golden Langur. The population of water buffaloes in Manas is unparalleled by any other national park.
Manas Wildlife Sanctuary lies in the basin of the Brahmaputra and can boast of being one of the most bio-diverse places in the world. The trees found here are mostly semi evergreen and dry deciduous trees. There are hundreds of different species of animals and birds found her. Tourists prefer this place because of the night watching facilities and the four wheel jeep drive. However, one runs the risk of coming across all kinds of wildlife, some of which may prove to be quite dangerous.