Top 5 UNESCO World Heritage Sites in Portugal
As a country with the most number of monuments, Portugal has managed to preserve much of its history and culture and place them in almost every corner of its cities. This is where many artists and all sorts of people looking for art and adventure go.
This is why there's so much to look out for in this country, especially the top 5 Portugese UNESCO World Heritage Sites, in addition to its beautiful landscape and admirable people.
Cultural Landscape of Sintra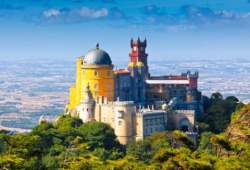 Way back in the 19th century, Ferdinand II transformed what used to be a monastery in ruins into what is now the first of all centers for European architecture.
The castle was built with various artistic elements, and together with parks and the natural surroundings, paved way to the creation of a beautiful landscape for the area. Sintra was declared a UNESCO World Heritage Site in 1995, and remains to be one of the biggest tourist centers in the country.
Tower of Belem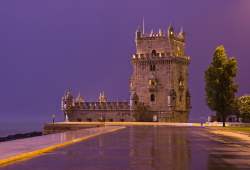 Right at the port of Lisbon harbor, the Tower of Belem was built to commemorate the famous expeditions of Vasco da Gama, who had made various maritime discoveries in the past. The tower itself is a symbol and reminder of all those maritime discoveries.
It also became a strategic defense point when it was commissioned by King John II to make it part of a defense system at the Targus River. Most importantly, its creation had also greatly influences how the foundations and the structures around that area were built. It was declared a UNESCO World Heritage Site in 1983.
Jeronimos Monastery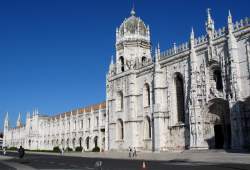 Alongside the Belem Tower, this UNESCO World Heritage Site was also recognized in 1983, and is also a symbol of the Manueline style of architecture in the country. Formerly home for the members of the Heironmyte order that assisted pilgrims who travel there, the Monastery adopts complex architectural and sculpting themes and incorporating maritime articles and objects.
The Monastery is one of the many that symbolizes the Age of Discovery in Portugal.
Batalha Monastery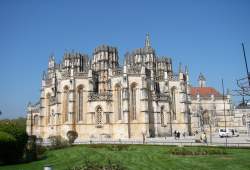 Yet another beautifully preserved structure is the Monastery of Batalha, which was declared a UNESCO World Heritage site in 1983. It created as a symbol of the Portuguese' victory over the Castilians in the battle of Aljubarrota way back in 1935.
While it also uses Manueline principles of architecture, it is predominantly rich with Gothic architectural design, and is one of the best examples of its kind. It is also home to the Royal Cloister, which is known as a great piece of art.
Evora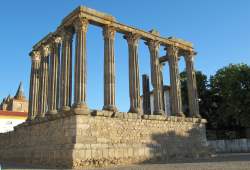 Although it was only designated as a UNESCO World Heritage Site in 1986, Evora's history dates back to two millennia ago. Until now it has been well preserved as a town center and is even still surrounded by medieval walls, not to mention a home to many historically relevant structures, including the Roman Temple.
Evora itself is a very livable city to be in, and is in fact ranked second in terms of living conditions in Portugal.