Top 7 Ski Resorts in North America
Skiing is a very popular sport which is enjoyed by people from around the world. In most places around the world, especially places where we can find snow covered mountains, we find numerous skiing institutes. North America, especially the US and Canada, offers some of the best skiing destinations in the world. Beautiful mountains, great scenery, amazing snow trails and world class luxury resorts and some of the facilities that one can expect in the popular skiing destinations in the region.
Skiing destinations in North America are popular with amateur skiers, expert skiers and even families looking for a skiing vacation. Here are the top 7 ski resorts in North America:
1. Mont Tremblant, Quebec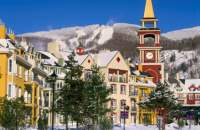 Located at a distance of about 80 miles from Montreal, Mont Tremblant has received the honor of being voted the best ski resort in eastern North America by the readers of Ski Magazine. With 1 sq mile of ski area, Mont Tremblant offers 94 ski runs served by modern lifts. It is a delight for those who love skiing and snowboarding. Mont Tremblant Ski Resort, which also has a casino, is the ideal place to stay in the region.
2. Stowe, Vermont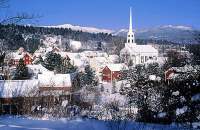 Located on Mount Mansfield and Spruce Peak on the northern part of Vermont, the Stowe Mountain Resort has 116 trails served by 13 lifts, including a very long ski lift, regarded as one of the longest in this part of the world. The Stowe Mountain Lodge was the first luxury mountain hotel to open in the eastern United States, and has been active for half a century now.
3. Banff, Banff National Park, Alberta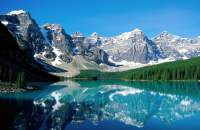 In Banff National Park you can enjoy the best off-piste skiing in the world. There are many superlative ski resorts in the region that are ideal for skiing enthusiasts. The skiing area stretches for over 11 sq miles and offers beautiful paths through the trees and groomed slopes. You can also enjoy the pristine beauty of Lake Louise in Banff National Park.
4. Whistler, British Columbia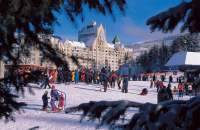 Whistler ski resort, situated in Whistler, BC is a charming Swiss style resort that hosted the 2010 Winter Olympics. It attracts countless American, Japanese, German and English skiers. Guests get a chance to participate in downhill snowboarding on the slopes of Whistler and Blackcomb shining Mountains, they slalom between the trees on their snowboards and also enjoy tree-climbing and relaxing in the luxurious Taman Sari Spa.
5. Lake Placid, New York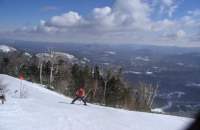 Whiteface Mountain, just 21 miles from Lake Placid, has twice hosted the Winter Olympic Games. Whiteface boasts of the highest peak (3428 ft) on the eastern part of United States, as well as 80 slopes for skiing and snowboarding which extend over an area of 21 miles. The longest run, offering medium difficulty, measures 3 miles.
6. Region Big Bear, California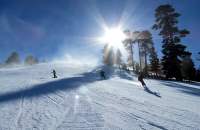 Big Bear offers two ski resorts: Snow Summit is the largest (one of the largest in Southern California) with 31 runs (the shortest is less than a mile) of nearly 1 km2 of practicable snowy surfaces. The other ski resort of Big Bear, Bear Mountain, offers more terrain and attracts snowboarders as it home to the only superpipe in Southern California.
7. Breckenridge, Colorado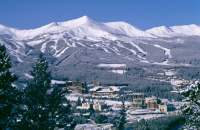 Breckenridge is located near four fabulous mountain ranges that are really suitable for all kinds of snow related activities and sports. In addition to the magnificent slopes, you will find a lively nightlife and excellent shopping in this Victorian town of less than 140 years. The Peaks Trail is a fun route of 10 miles for cross-country skiing which runs from Breckenridge to Frisco. This skiing destination is popular with all kinds of tourists, both domestic and foreign.