The Best Beaches in Brazil
Brazil is a very popular tourist destination. This South American country is adorned with the beauties of nature such as mountains, forests, beaches etc. The culture and way of life of the people of Brazil also make it a very attractive destination.
The country is popular with all kinds of tourists, including those who love beach vacations. Brazil has many beautiful and lively beaches that are very popular with locals as well as foreigners. The beaches in Brazil are Ideal for those who want to enjoy the pleasure of the sun, surf in turquoise water and experience in person the joy of samba and carioca. Travel magazines frequently list the beaches of Brazil as the liveliest beaches in the planet.
Here are some of the best beaches in Brazil:
Porto de Galinhas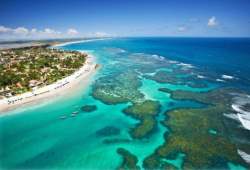 In Ipojuca, 65 km from Recife, lies Porto de Galinhas which is one of the most sought after beach destinations in Brazil. Less than twenty years ago it was a small fishing village at the end of a side street, with a beach full of palm trees and some houses.
Today it is one of the most important tourist destinations in Brazil, partly because it still retains some of that magic that emanates from inspiring small towns embraced by the sea and blessed by nature. Its fame also grew, thanks to being voted "the best beach in Brazil" for 7 consecutive years by the popular South American magazine called Viagem e Turismo.
Porto Seguro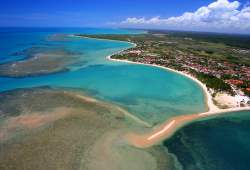 Porto Seguro is the second most visited destination in the state of Bahia. Thousands of Brazilians from all over the country come here to enjoy its beautiful beaches and amazing nightlife during the summer holidays. It has a highly developed infrastructure, with hundreds of hotels and resorts which offer luxurious facilities to the guests.
Porto Seguro is one of those places which were colonized by the first Portuguese sailors and you can see traces of those early days of colonization in its churches and heritage buildings. In Porto Seguro the best beaches can be found on the north such as Itacimirim, Mundai and Taperapuan beaches.
Paraty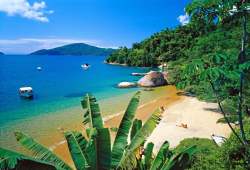 Located between outgoing peninsulas and secluded beaches, with a backdrop of forested mountains that plunge into a magical bay dotted with small islands, Paraty is one of the most attractive and exquisitely preserved historical gems of Brazil. This former Portuguese settlement founded in the fourteenth century is located 250 km from Rio de Janeiro and is one of the highlights of the Brazilian Costa Verde. The magic of its colonial streets and beaches make it a unique and dream destination to the tourists.
Dozens of pristine beaches are just minutes from Paraty by boat or bus. Enjoy the tranquility of the city early in the morning and evening, while the rest of the day you can relax on white sands and swim in a warm sea.
Boipeba Island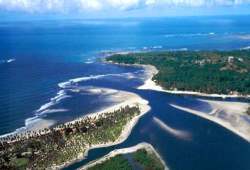 The Boipeba Island is located about 200 km south of Salvador and is accessible by plane from there. It is one of those locations which have a relatively remote beach that still retains an air of isolation from civilization. It is ideal for anyone looking for clear water, island tranquility, contact with local culture and soft ecotourism. Boipeba has all the ingredients to delight those who enjoy contact with unspoilt nature.
There is a local village with 30 lodges for tourists to stay and it is called Velha Boipeba. It is quiet and rustic, no cars are allowed and from there you can explore the island and its fabulous unspoilt beaches: ideal for those who want to unwind and enjoy the natural attractions of the place.