Top 5 Beaches in Spain - The Best Beaches to take your Family
Spain is one of the most beautiful countries in the world. Known for its rich history, culture and natural beauty, the country is a very popular tourist destination and offers tourists everything they can ask for. In Spain, few things are found in abundance and these things include great food, beautiful archaeological sites, and of course splendid beaches.
The beaches in Spain are popular with all kinds of tourists and they are regarded as among the best in the world. If you would like to know more about the beaches in Spain, you will find this article a great introduction.
Here are the top 5 beaches in Spain:
Playa Isla Canela, Huelva, Andalucia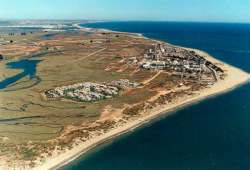 The beautiful beach of Isla Canela lies in southern Spain, in Andalusia, a few kilometers away from Portugal. Huelva is actually situated in the mouth of the Guadiana River, between marshes, creeks, beaches and dunes. The area around the beach and the nearby city of Huelva are popular with locals and Portuguese.
The main attraction of the city is the 7 km long golden beach which attracts swimmers and vacationers from around the world. The beach is known for its clear water which makes it ideal for swimming and aquatic sports.
Bologna beach in Cadiz, Andalucia, Spain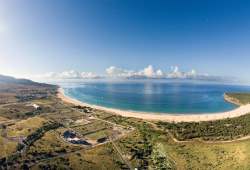 Also in Andalusia, in the province of Cadiz, Bolonia is everything you could ask for in a beach. Along the quiet village of Bologna and a few kilometers from the southern end of the Iberian Peninsula, lies this beach which offers much more than sun, sand and sea.
Just behind the fine white sand you can visit the remains of the Roman city of Baelo Claudia (the Romans knew why they were building a settlement here). To the west, Bologna is protected by some truly impressive dunes. And if you are a fan of water based activities, Bologna is surely the ideal place for you.
Gulpiyuri Beach, Asturias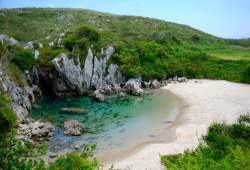 Who said that there can be no sea beaches without a sea? Gulpiyuri beach is a unique beach which is actually a sinkhole which is flooded. It lies between the cities of Santander and Gijon but its location is not exactly on the coast. This unusual place is about 100 meters from the Bay of Biscay, with which is connected through a network of underground caves.
So here you can swim in the sea without seeing it. Gulpiyuri is about 40 meters long, is surrounded by rocks and forms a kind of triangle, shaping a wonder of nature. If you want a truly remarkable beach experience, you should visit this beach.
Genoese beach, Almería , Andalucía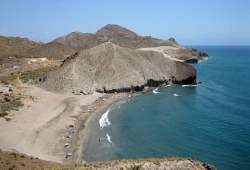 The beautiful and unspoilt beach of the Genoese lies is in the heart of the Cabo de Gata Natural Park. The beach is isolated, has no large hotels or bars but it is a natural paradise with one of the best sceneries in Spain.
If you go there you should plan your trip in advance and do not forget to carry a towel and some food, and you can enjoy a quiet day in a lovely and incredibly peaceful place.
Cala de Sa Calobra, Palma de Mallorca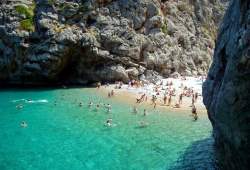 Although it is well known, the Cala de Sa Calobra beach is still extraordinary. Sa Calobra Bay is an adventure in itself. First, it is not a place that is easy to reach: either you go there by boat or through a steep and winding road not suitable for those who get dizzy or suffer from vertigo.
Once you are there, you will have two small beaches to choose from. One of the beaches is located just outside the small town of Sa Calobra.