Windjana Gorge National Park, Western Australia : Tourist Guide
Located in the Kimberley Region of Western Australia, Windjana Gorge National Park is one of the most accessible gorges in the area. Stretching over 3 km and almost 100 meters wide in some places, Windjana Gorge is a haven for fresh water crocodiles and one of the best places in land to watch them in their natural habitat.
Crocs may be the main attraction of the gorge, but they aren't the only things to see here. Lining both sides of the gorge are cliffs that reach up to 30 meters in some areas. It is said that these rocks are over 375 million years old.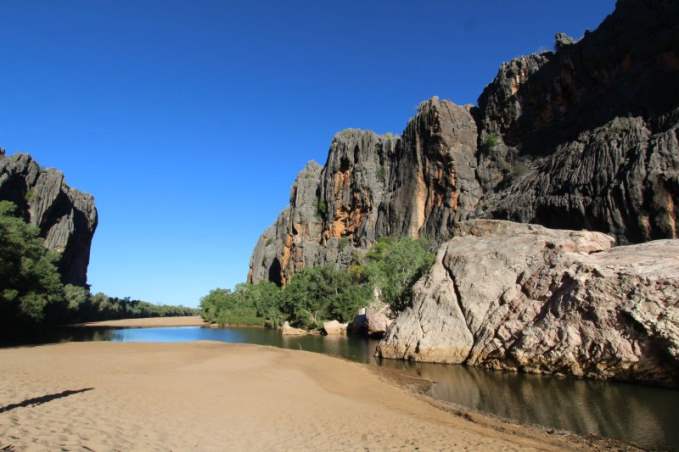 The river that flows through the gorge does so mainly during the wet season. However, during the dry season, you'll notice the river forming into small pools that seemingly call out for you to take a dip. Unfortunately, swimming in the gorge is only for the brave. With so many fresh water crocs eagerly waiting for their next meal, it will seem like you're handing yourself to them on a silver platter. However, fresh water crocs aren't as fierce as their salt water counterparts. In fact, they are generally harmless and will only attack a human if they are provoked and in fear of their life.
How to Get There
The best way to reach Windjana Gorge National Park is through Derby. The park is situated along Leopold Downs Road that turns into the Great Northern Highway. The road going to the park is well maintained although it is still a gravel road so it is best to pay attention to safety while driving.
One thing to note is that Windjana Gorge National Park is right beside Tunnel Creek National Park. In fact, the rocks forming the cliffs at Windjana Gorge are actually connect to the rocks at Tunnel Creek.
If you would rather visit the park with a group, then it is best you join commercial day tours offered by companies at Derby.
Camping at Windjana Gorge
If you're expecting a high-level camping site at Windjana, then you might get a bit disappointed. However, the camping ground is decent and they do have facilities including toilets and showers. You can even bring a generator with you, but be aware that there is a special area to place them.
Other Activities
Watching crocs all day may not sound very appealing to some, but there are other activities you can do while you're there. Three walking trails will enable you to explore the gorge. The Time Walk Trail leads you to areas where you can marvel at fossilized remains of marine animals embedded on the rock walls. The Gorge Walk Trail does what its name suggests, you'll be walking at least 3.5 kilometers along the gorge. This is quite a distance especially during the dry season, so make sure you bring enough drinking water. If you prefer a shorter walk, then go on the Savannah Walk Trail that will take you along the southeastern wall.
If you decide to go on one of the trails, make sure that you leave anything you encounter undisturbed. The whole area is protected to ensure that it will remain the same for generations to come.
Photos or Windjana Gorge