Tourist Guide to Banff National Park, Canada
Banff National Park is the first of its kind in Canada and one of the largest. Located in the province of Alberta, the majority of the park is mountainous terrain that is mostly covered in snow during winter. As such, much of the area is ideal for snow boarding, skiing, or other winter sports.
Its beauty stands out during other seasons, which makes it a haven for photographers and those who simply love the stunning beauty of nature.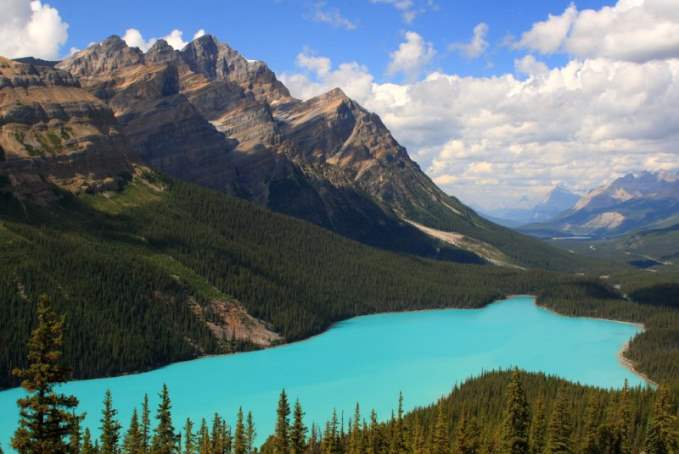 How to Get There
If you're flying in to Alberta, the closest airport to the park is in Calgary, unless you've chartered an aircraft wherein you'll be able to land at the airstrip inside the park. You can also take a train to Banff from Vancouver. The trip will take you through the Canadian Rockies, which is an impressive site, especially by rail.
Another option is to travel by bus. Both Greyhound and Brewster have regular schedules to Banff. This is a good option if you're taking a commercial flight into Calgary since you'll be able to catch a bus from Calgary Airport.
Regardless of your transportation choice, you'll be charged a fee to enter the park. The fee will depend upon your age or if you're travelling with the family. You'll also need to be aware that park authorities also charge camping and backcountry exploration fees, if you intend do those activities.
Moving Around the Park
The most convenient way to get around the park is by vehicle. If you didn't bring one from Calgary, you'll be able to rent one at Banff. It's best that you rent a 4-wheel drive because of the terrain. You can also rent a bicycle to get around the park, if you have plenty of energy.
Accommodation
It will take you a few days to explore the major attractions of Banff National Park. You'll be able to find a number of hotels, lodges, and resorts in the immediate vicinity of Banff. You can also opt to do some camping, but it's best that you reserve a spot with the park authorities in advance.
What to Do
Sightseeing is one of the most popular activities in Banff National Park. You'll be able to get the best views from one of the two gondolas. The Banff Gondola provides you a magnificent view of the six mountains. The ride begins from the town of Banff and takes you up to the observation deck. From there, you'll be able to walk to the Sanson's Peak Meteorological Station or the Cosmic Ray Station National Historic Site.
The Lake Louise Sightseeing Gondola starts at the Lake Louise Ski resort and goes all the way up to the peak of Mt. Whitehorn. The trip takes around 14 minutes and you'll have the option of taking a non-covered or enclosed seat. You'll get a stunning view of the alpine meadows, the Rockies, and some grizzly bears.
Banff National Park is popular for the various ski resorts in the area. While you're there, you should try a bit of skiing or snowboarding. The three ski resorts in the area are:
Lake Louise
Sunshine
Mount Norquay
Safety
Banff National Park encompasses a very large area. As such, it's imperative that you are concerned about your safety while navigating through the park. One of the biggest concerns are the wild animals. Cougars, Elks, Moose, and Bears have made the park their home. If you do encounter a wild animal during your travel, it's best that you slowly move away. If you're travelling with children, do your best to keep them calm while retreating.
Never directly approach an animal. It's best to view them from a distance with a binocular. If you're inside a vehicle, do not spend too much time looking at the animal. A few seconds should be enough and then move on.
When skiing, snowboarding, or engaging in other winter sports, make sure that you remain inside the confines of the resort. It is not recommended to ski out of bounds. If you should decide to explore the backcountry, be aware of the dangers you might be facing. Avalanches do occur from time to time and it can be difficult to request help, especially when you're at a location where emergency staff will find it difficult to reach you.
Make sure that you have the emergency numbers of the park authorities at all time while inside the park. There is a hospital and clinic in the park and an ambulance service is available in an event of an emergency.
More Photos of Banff National Park