The Alcan Highway : USA Road Trip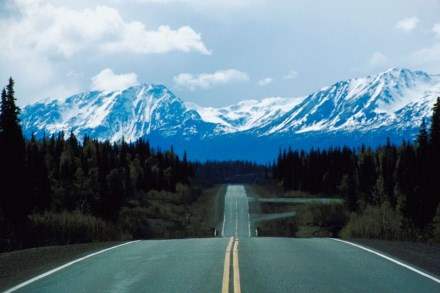 The Alcan Highway (also known as Alaska Highway) connects the state of Alaska to rest of the US and it goes through Canada. It is one of the best roads to enjoy the beauty of North America. Although this road trip will take you through Canada, it is one trip that should not be missed. The Alcan Highway connects United States to Alaska through Canada and a trip on this highway is a dream of every individual who loves adventure. The Highway runs through the wilds of Canada, from the foothills of t
The journey covers a distance of around 1300 miles. One of the most picturesque points of the route is Haines, where thousands of RV drivers begin their journey into the Alcan Highway. The highway is famous all over the world for its size and characteristics. It was developed as a necessity when the Alaska was not connected to the mainland. It was 1942, during the 2nd World War, when the Japanese threatened top attack more and more places in the US. During that time, the US Government decided to build a new highway that would connect Alaska to rest of the country. In just eight months, the new road was passable. Over the years, the highway has become very popular with road trip enthusiasts.
When to Go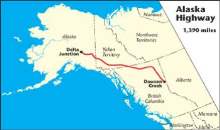 The highway is passable all year round and in all weather conditions. Even today it remains the only land link between the United States and Alaska. It is well paved, but despite everything, you have to be very careful when traveling. This is because snowfall can occur in many places along the way, and the weather can be extreme even in the summer. Also, you might come across stretches of broken bridge because of which you will need to be careful. But what will make you forget any discomfort are the unforgettable views of mountains, springs and wildlife.
Cross the Fairbanks and Anchorage and you will find yourself in the midst of beautiful hills and majestic mountains. Those who visit Alaska, should not to miss a trip to Denali National Park, dominated by Mount McKinley. Apart from natural beauty another unique phenomenon that you can encounter on this road is the change of scenery. First you will come across places which have a cool temperature and are filled with lush green forests. When you travel further, you will encounter a winter like situation with snow covered roads and pristine white valleys. On the way, you will encounter caribous, horses and many other wild animals. You can also explore the hospitality and culture of the Canadian provinces of British Columbia and Yukon. The journey will surely be worth your time, effort and money.
How about driving along this route then? It's a great route if you love driving and seeing new scenary. Book your Dawson Creek Airport car hire with us today to start your journey.
Route Details
Start:
Dawson Creek, Canada
End:
Big Delta, USA
Distance:
1,300 miles
Duration:
15 to 17 Days
Best Time:
The best time to visit this part of the world is during the summer months i.e. June to October.
Overnight Stay:
You can either use a tent to for camping at places along the highway, or you can stay at any of the motels. Luxury accommodation may not always be available on this road.
Transport:
Hire a car or venture out in your own 4 wheeler; travel in a group with multiple drivers.
Food:
There are many restaurants on the way, which serve great food. You can also opt to cook on your own, by buying edibles from local markets.
Difficulty:
In winter, the weather remains extremely cold in places along this route and the journey can be quite difficult.