The Pacific Coast Road Trip - The Ultimate California Getaway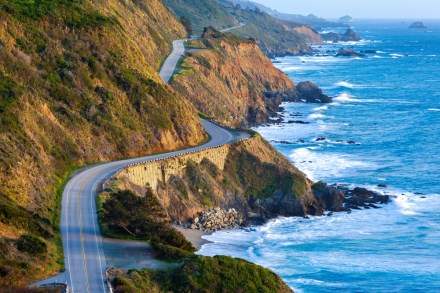 Many of the prettiest sights in California can be found along the curving Pacific Coast Highway. So if you are planning to explore California on the road, your best bet is to take a road trip along this major highway.
Despite its name, the road along the Pacific Coast changes every now and then; in some parts, it is a highway, but in some, it becomes a crowded city street or a slow twisting road. But no matter where you are, you will always be treated to a sight of the California coastline meeting the Pacific Ocean.
You can start your road trip in San Diego and head north going to San Juan Capistrano where you will finally meet the Pacific Coast Highway. Driving on, you can end the day at any of the great resorts in Huntington Beach.
The next day, start out early and explore the long strip of L.A. beach towns, including Manhattan, Redondo, and Hermosa. Feel free to stop at any of these beaches, but make sure to head towards Venice before sunset. The Venice Boardwalk is a great place for watching the sunset and it lights up beautifully at night. It's also a wonderful spot for a night-time walk along the beach.
After Venice, the PCH bends into Santa Monica and continues on to Malibu, where you can also check out the Malibu Lagoon State Beach and the surf spot at Malibu Pier. You will then pass through Oxnard and Harbor Boulevard, after which you can take another stop at Santa Barbara.
Santa Barbara is worth stopping for; you can even spend a day there, either hanging out at the beach, shopping at its whole strip of boutiques, or immersing yourself in the Spanish colonial history of Mission Santa Barbara.
Afterwards, you can head north to El Camino Real, a historic Mission road, and continue left towards the Cabrillo Highway. From there, you can keep driving to Pismo Beach, Los Osos Valley Road, Cambria, and northwards to San Simeon where you can tour the Hearst Castle.
You can then move on to Piedras Blancas and finally head towards the Big Sur, where you can camp or hike at the Pfeiffer Big Sur State Park. Nearby, Esalen has some hot tubs you should definitely try.
From Big Sur, drive towards Monterey, passing through Point Lobos, Pebble Beach, and Carmel Valley, where wine tasting is a must. Then go on to Santa Cruz Beach Boardwalk, before taking the Half Moon Bay going up to San Francisco, where you will be greeted by the Golden Gate Bridge.
Route Facts:
Country (where the road trip is): United States of America
Starting Point/City: San Diego or Long Beach
End Point/City: San Francisco
Estimate of Drive Time to cover route: 10 days